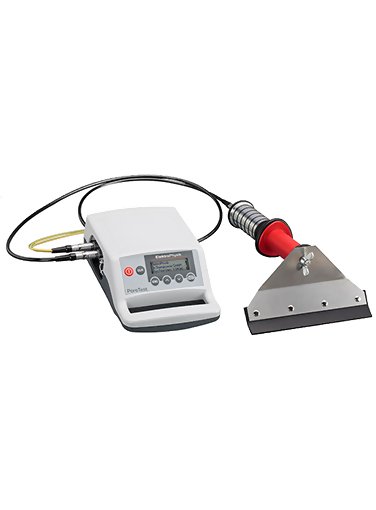 ---
3 high voltage probes for different coating thicknesses available (not included):
P7: 0.03 mm 1.7 mm / 1 mils 67 mils
P30: 0.52 mm 9.49 mm / 20.5 mils 373.6 mils
P35: 1.4 mm 11.3 mm / 55 mils 444 mils
Designed for detecting flaws and pores, the PoroTest 7 can be used for non-destructive porosity testing of all insulating coatings on conductive substrates such as steel, aluminium, etc. The test instrument consists of a high voltage probe with an integrated high voltage generator and a test electrode, which is simply connected to the probe. The test voltage control works automatically and is specific to the thickness of the material to be tested and vice versa.
The control unit features a digital display and control pad. The control unit housing is fully portable and made of rugged ABS plastic with an integrated handle. The high voltage probe and control unit are connected via a rugged cable. To detect porosity, the appropriate test voltage specific to the material thickness is set on the control unit which applies, when activated, a spark discharge at the moment a material flaw is detected. In addition to the spark discharge, flaws are indicated by a visible and audible signal and counted. The test voltage is directly indicated on the digital display.
Typical applications: Testing linings and coatings applied on ducts, pipes, hulls, oil and storage tanks, enamel, paint, rubber and bitumen linings, vessels and tanks, GFK and other plastic materials.
PoroTest-7 High Voltage Porosity Holiday Detector
Control unit with integrated storage battery
Connecting cable probe-control unit
Metal brush
Grounding cable, 5 m (16 ft) length
Power cable
Shoulder belt
Instruction Manual
Carrying Case
Powerful and versatile gauge with new ergonomic design making it ideal for on-site testing
User-friendly key-pad layout with menu driven operation
Variable pre-set test voltages specific to material thickness
High voltage probe with equipment-on and pore indicator (red LED)
Light-weight and hand-held test electrodes provide convenient operation
Test method conforms to DIN 55 670
Backlit display to indicate current test voltage, number of pores and material thickness
Residual voltage indicator
Alarm signal when exceeding pore limit setting (Limit)
Power supply: AC operated or battery operated via integrated storage battery (C-cells)
Electrical safety provisions according to VDE 0411, part 1: probe voltage and maximum discharge rate stay below the limit values as specified by the safety standard.
Low-battery indicator
| | |
| --- | --- |
| Voltage | DC |
| Display | LC-Display, 3-digit |
| Accuracy of voltage setting | (0.1 kV + 3% of reading) |
| Dimensions of high voltage probe | 274 mm x 63 mm |
| Dimension of control unit | 225 mm x 150 mm x 85 mm |
| Weight high voltage probe | 550 g |
| Weight control unit | 1400 g |
| Alarm signal | 90 dB, 0.1 s/Pore, continuous tone in case of short-circuit |
| Signal output | potential free, Umax.: 100 V, Imax.: 0.4 A |
| Storage battery | 4 C-cells, IEC LR 14, 3.5 Ah, NiMH, replaceable |
| Storage battery life at maximum voltage | PoroTest 7-P7: 20 hours continious operation PoroTest 7-P30 & P35: 10 hours continious operation |
| Storage battery charging time | 4 hrs quick charge |
| Mains voltage | 110 to 230 V, 50/60 Hz, automatic switch |
| Operating temperature | 0...+50C/ 32...122F |
| Humidity | avoid dew on the surface (refer to DIN 55 670) |
| Standards | DIN 55 670, ASTM D 5162-01, AS 3894.1-2002 |