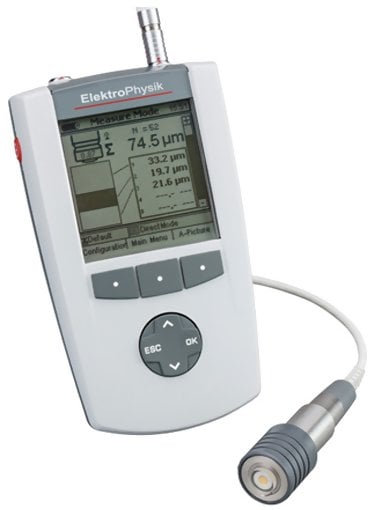 ---
Non-destructive measurement of all types of coatings on various materials
---
Measuring range:
Up to 7.5mm / .29 Inches depending on material
---
The QuintSonic-7 Ultrasonic Coating Thickness Gauge is a new, portable gauge, especially designed for non-destructive coating thickness measurements of paint, varnish, plastics and other insulation coatings applied on wood, plastics, glass, ceramics etc. as well as for polymer layers on metals. Up to now, these materials could only be measured destructively. The QuintSonic-7 enables measurement of up to 5 coatings in a single operation.
As a special feature, the gauge offers the possibility to measure the total thickness as well as the individual layers of a multi-layer system in only one measuring process. The QuintSonic coating thickness gauge measures single and multi-layers of coatings up to a total thickness of 500 mm. The robust gauge is appropriate for use in the laboratory, in production and on site.
QuintSonic Coating Thickness gauge
Probe
Cable
Plastic case
Coupling liquid, 100 g
Operating instruction
Mains unit with Euro / US adapter
Non-destructive coating thickness measurements
Suited for coatings up to a total thickness of 500 mm
Robust measuring gauges for use in the laboratory, in production and on site
Measurement of the total thickness as well as the individual layer thickness of a multi-layer system in only one operation
Storage and documentation of measuring values
Limit setting with optical and acoustic warning when limits are exceeded
Conforms to DIN EN ISO 2808 & ASTM D6132
Measuring ranges
Single layers:10 m - 500 m
Multi layers:Max. 500 mm totally
Wall thickness of metals: 0.1 mm - 8 mm
Wall thickness of plastics: 0.2 mm - 3 mm
Resolution
1 mm
Measuring uncertainty
< 100 mm (2 mm + 3 %*)
> 100 mm (2 mm + 2 %*)
Memory Capacity
max. 10,000 measuring values in max. 500 batches
Statistical evaluation
n, x- , s, kvar, max, min, with time and date of print-out and reading
Limit setting
with optical and acoustic warning when limits are exceeded
Interfaces
RS 232 C for MiniPrint data printer
Power supply
2,4 V akkupack: 2 x 1,2 V AA NiMH or NiCd (approx. 2,500 measurements)
Charger
90 V to 264 V (charging time: 4 hours)
Dimensions and weight
Gauge: 150 mm x 82 mm x 35 mm/150 g Probe: 30 mm x 45 mm dia.
Ambient temperature
-15 C - 55 C
Weight
310 gr