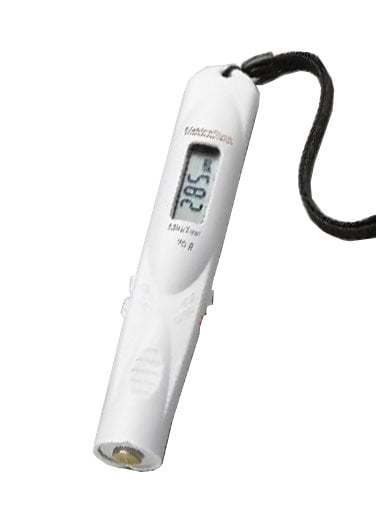 ---
One model only for Fe and nFE substrates
---
Ferrous Substrates: 0 - 3 mm (0-120 mils)
Non-Ferrous Substrates: 0 - 2.5 mm (0-100 mils)
---
No calibration required
---
ZERO calibration only
---
Automatic identification of the substrate type
---
Automatic identification of Substrate type
---
The ElektroPhysik MiniTest 70E Coating Thickness Gauge is a pocket sized, versatile and accurate thickness gauge with built-in sensor. It is a lightweight and handy coating thickness gauge in a pencil format with a built-in sensor. Especially designed for easy operation, this gauge is the ideal tool to measure any non-magnetic coatings on steel and/or any insulating layers on non-ferrous metals. The spring-mounted sensors are equipped with wear-resistant sensor poles and ensure durability even when used for measurements on rough and abrasive substrates.
Designed for measurement on non-ferrous metals can measure insulating coatings such as paint, enamels, anodic films, etc, on non-ferrous metal bases such as aluminium, copper, brass, etc.

And for measurement on ferrous metals, non-magnetic coatings such as paint, enamels, chrome, etc., can be measured on ferro-magnetic bases such as constructional steel, car bodies, etc.

The MiniTest 70E Series provides accurate, non-destructive coating measurements on steel and non-ferrous metals. It's equipped with a dual sensor for automatic identification of the substrate. According to the substrate, it adjusts to the appropriate measuring principle: magnetic induction or eddy currents principle.
Measuring range 0 to 3 mm on steel substrates and 0 to 2.5 mm on non-ferrous metals.
MiniTest 70E-FN - Calibration foils
Operating instructions
Pocket sized, compact coating thickness gauge
For fast and precise measurements of non-magnetic coatings on steel and insulating coatings on non-ferrous metals
Easy 1 button operation
Built-in spring-mounted sensor
Lightweight: only 80 grams
Automatic identification of the substrate material
Built-in sensor
Measuring Range
Ferrous Substrates: 0 - 3 mm (0-120 mils)
Non-Ferrous Substrates: 0 - 2.5 mm (0-100 mils)
Measuring Principle
Magnetic-induction / Eddy current
Signal Processing
Sensor integrated 32-bit signal processing (SIDSP)
Accuracy
(3 m + 5 % of reading)
Repeatability
(3 m + 1 % of reading)
Low range resolution
2
Minimum curvature radius convex
50 mm
Minimum curvature radius concave
100 mm
Minimum measuring area
50 mm
Minimum substrate thickness
F: 0.7 mm
N: 0.1 mm
Measuring units
Metric/Imperial switchable
Calibration modes
Factory calibration, no calibration required
Operating temperature range
-10 to 60 C (14 - 140 F)
Storage temperature range
-20 to 70 C (-4 - 158 F)
Power supply
1xAA (Mignon)-battery
International standards
DIN EN ISO 1461, 2064, 2178, 2360, 2808, 3882, ASTM B 244, B 499, D7091, E 376
Dimensions
Approx. 157 mm length, 27 mm
Weight incl. battery
Approx. 80 g (2.8 oz)
Warranty
1 year