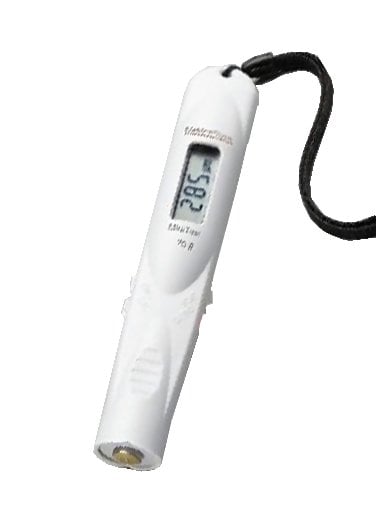 ---
ElektroPhysik MiniTest 70 Coating Thickness Gauge: 0 - 120 mils (0 - 3 mm) MiniTest 70FN - F: 0 - 120 mils (0 - 3 mm) / N: 0 - 100 mils (0 - 2.5mm)
---
1-point and 2-point calibration
---
Pen-Type Gauge for maximum portability and performance
---
MiniTest 70F - Ferrous Only Model
MiniTest 70FN - Combination Ferrous & Non-Ferrous Model
The ElektroPhysik MiniTest 70 Coating Thickness Gauge is a pocket sized, versatile and accurate thickness gauge with built-in sensor. Especially designed for easy operation, this gauge is the ideal tool to measure any non-magnetic coatings on steel and/or any insulating layers on non-ferrous metals.
Coating thickness gauges designed for measurement on non-ferrous metals can measure insulating coatings such as paint, enamels, anodic films, etc, on non-ferrous metal bases such as aluminium, copper, brass, etc. The spring-mounted sensors are equipped with wear-resistant sensor poles and ensure durability even when used for measurements on rough and abrasive substrates.
With coating thickness gauges designed for measurement on ferrous metals, non-magnetic coatings such as paint, enamels, chrome, etc., can be measured on ferro-magnetic bases such as constructional steel, car bodies, etc.
The MiniTest 70 Series provides accurate, non-destructive coating measurements on steel and non-ferrous metals (FN model). Also, the FN model is equipped with a dual sensor for automatic identification of the substrate. According to the substrate, it adjusts to the appropriate measuring principle: magnetic induction or eddy currents principle. Both models are provided with a quick statistics mode to calculate the number of readings, average, standard deviation and min./ max. value which makes the MiniTest 70 ideal for on-site operations.
MiniTest 70 F or FN - Steel and aluminium test plates (for model 70FN)
Calibration foils

Operating instructions
Gauge tether
Belt pouch
Pocket sized, compact coating thickness gauge
Proven measuring methods
Statistics function
High repeatability
For fast and precise measurements of non-magnetic coatings on steel and insulating coatings on non-ferrous metals
Enables 1-point and 2-point calibrations
Automatic identification of the substrate material
Built-in sensor
Measuring Range
MiniTest 70F - 0 - 3 mm (0 - 120 mils)
MiniTest 70FN - F: 0 - 3 mm (0 - 120 mils) / N: 0 - 2.5mm (0 - 100 mils)
Measuring Principle
MiniTest 70F - magnetic induction
MiniTest 70FN - magnetic induction / eddy currents
Signal Processing
Sensor integrated 32-bit signal processing (SIDSP)
Accuracy
(1.5 m + 3 % of reading) with 1-point calibration
(1.5 m + 2% of reading) with 2-point calibration
Repeatability
(1 m + 1 % of reading)
(0.04 mils + 1% of reading)
Low range resolution
0.5 m (0.02 mils)
Minimum curvature radius convex
5 mm (0.2")
Minimum curvature radius concave
40 mm (1.60")
Minimum measuring area
30 mm (1.20")
Minimum substrate thickness
F: 0.5 mm (0.02")
N: 0.04 mm (0.0016")
Measuring units
Metric/Imperial switchable
Calibration modes
1-point calibration, 2-point calibration
Statistics
n, x-, s, Min, Max
Operating temperature range
-10 to 60 C (14 - 140 F)
Storage temperature range
-20 to 70 C (-4 - 158 F)
Power supply
1xAA (Mignon)-battery
International standards
DIN EN ISO 1461, 2064, 2178, 2360, 2808, 3882, ASTM B 244, B 499, D7091, E 376
Dimensions
Approx. 157 mm length, 27 mm (5.2" length, 1.06")
Weight incl. battery
Approx. 80 g (2.8 oz)